Products
Comfortable, modular, personal
The Siesta footrest offers great comfort, beautiful proportions, and great functionality, which make it suitable for the most varied compositions adapted to any requirement and space. Its wide selection of fabrics with a wide variety of textures and colors add versatility. The upholstered parts are removable for easy maintenance. Its structure is made of steel, giving the piece a visual lightness that contrasts with its comfortable and robust presence.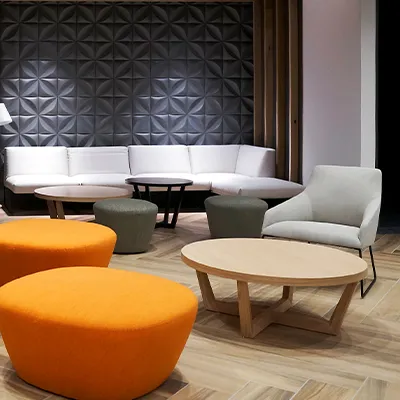 LeaLea Lounge Offices
The LeaLea Lounge Offices project features: Nub, Beat, Alya, Siesta, Nuez, Radial Conference and Uves Occasional collections.
Discover more
Meliá Lebreros Hotel
The _ project features: Alya, Brandy, Siesta, Serena Teak, Oliva, Raglan Table, Smile, Serena, Dual Occasional, Ronda, Dual, Dual Outdoor, Landscape Alu, Valeria, Closed Table, Carola and Tauro collections.
Discover more