Interview with José Andrés
Eat well seated
"I always say that I do not open restaurants but tell stories, and design is an important part of that."
Voted one of the 100 most influential people according to Time magazine in 2012 and 2018, an "Exceptional Chef" and "Humanitarian Chef" according to the James Bread Foundation in 2011, National Medal of the Humanities in the USA (2016), Order of the Arts and Letters from Spain in 2010... the list is endless. José Andrés is probably the most international Spanish chef yet.
When did you start on this and why are you passionate about cooking?
I started cooking as a child, my parents were nurses, and they cooked for me and my brothers. When I was young, I loved being in the kitchen helping my mother or outside cooking with my father.
What importance is given to the design and furnishings of your restaurant?
It is very important to have a space that is creative and that inspires being in it when one is preparing a good meal for others. I want our guests to be transported when they enter one of our restaurants. I always say that I do not open restaurants but tell stories, and design is an important part of that.
How do you combine design with gastronomy?
My culinary and design team work together to tell stories in the most exciting and delicious way possible. Every detail, from the dishes to what is on them, from the lights and what is lit, the ingredients, the cutlery; everything adds up to the full experience.
What is the relationship between your cuisine, the design and the chairs in your space?
I try to be creative and traditional when it comes to cooking, and I think it's the same with the design. We must know history to create something new and authentic. I am Spanish, but I am also American: I have one foot in each country, and each one influences me when I create a dish or design a new restaurant.
Why did you choose the model of chair you have in your restaurant?
I work very closely with the designer and architect Juli Capella in the interiors of my restaurants. He is the one who brought me to Andreu World. I love these chairs for Jaleo, they give a lot of sense to the space.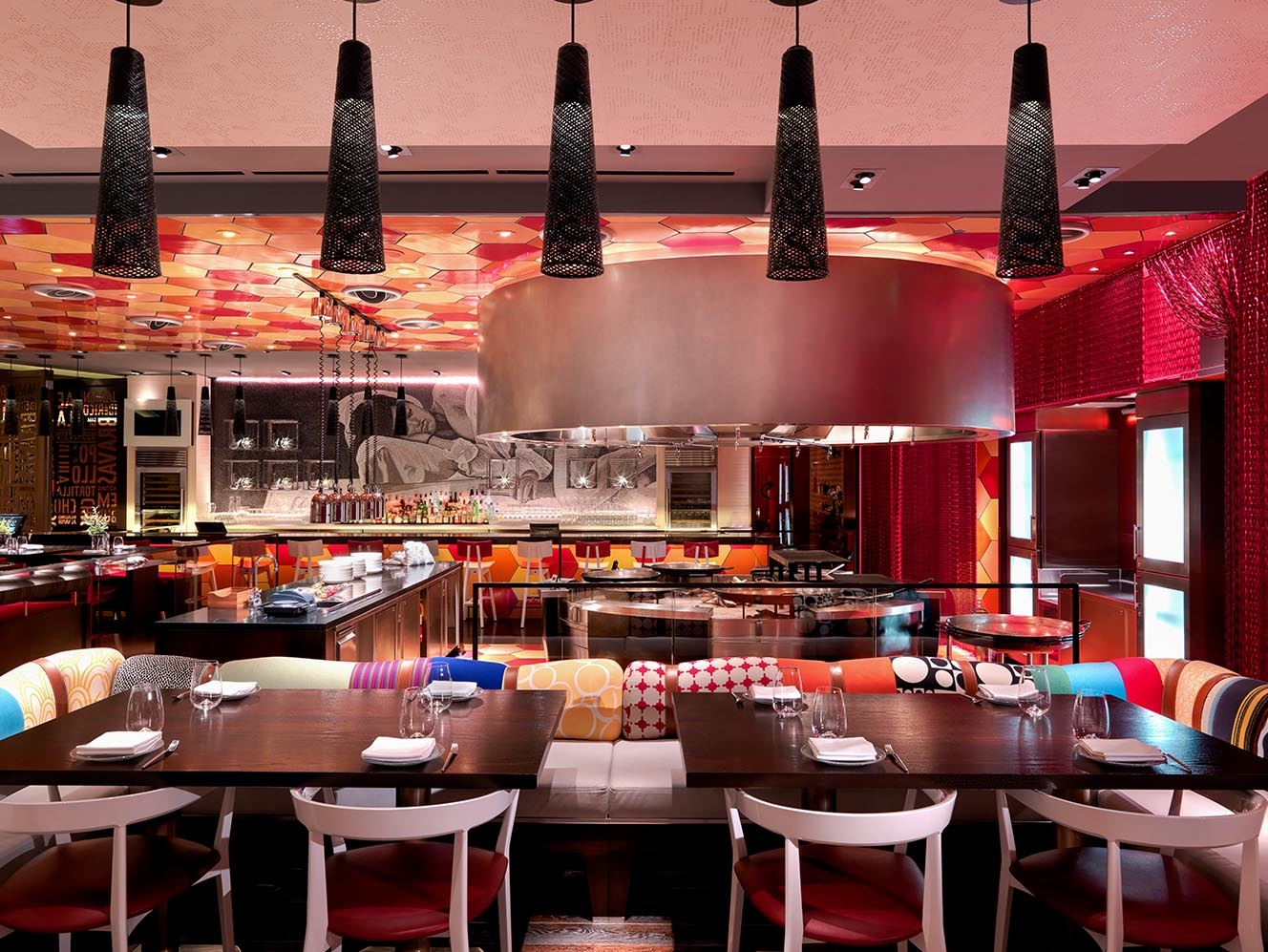 Jaleo is his way of talking about casual chic cooking. It has several locations in cities such as Washington, Mexico City and Dubai. The predominant dishes are for sharing, prepared as they are in Spain and with Spanish ingredients.
Everything is served in a comfortable, cozy and modern atmosphere by the architect Juli Capella (Capella García Arquitectura). A passionate red envelops the walls and curtains; on the ground, weathered woods; and on the ceiling and bar, a ceramic mosaic. All this evokes, albeit in a current version, taverns and tapas bars.
In several aspects of the decoration, a reinterpretation of the Spanish archetypal is made with a certain sense of humor: from a customized bullhead to the wall-drawer units from which vinyl passages, religious images, traditional ceramics or antique fans are displayed.
Otros artículos relacionados