Design is good for health
New book
This publication is the result of an investigation carried out by Ramón Úbeda on the occasion of Valencia World Capital of Design 2022, which shows the important role of design in healthcare, emphasizing its capacity as a tool for the progress and well-being of people.
Design by itself can't cure anything, but neither could a vaccine if we do not have a syringe to inject it. Designing it is part of the solution, it is not an added value, it is essential in the development of any innovation for the social good.
It is the result of research on the important role of design in healthcare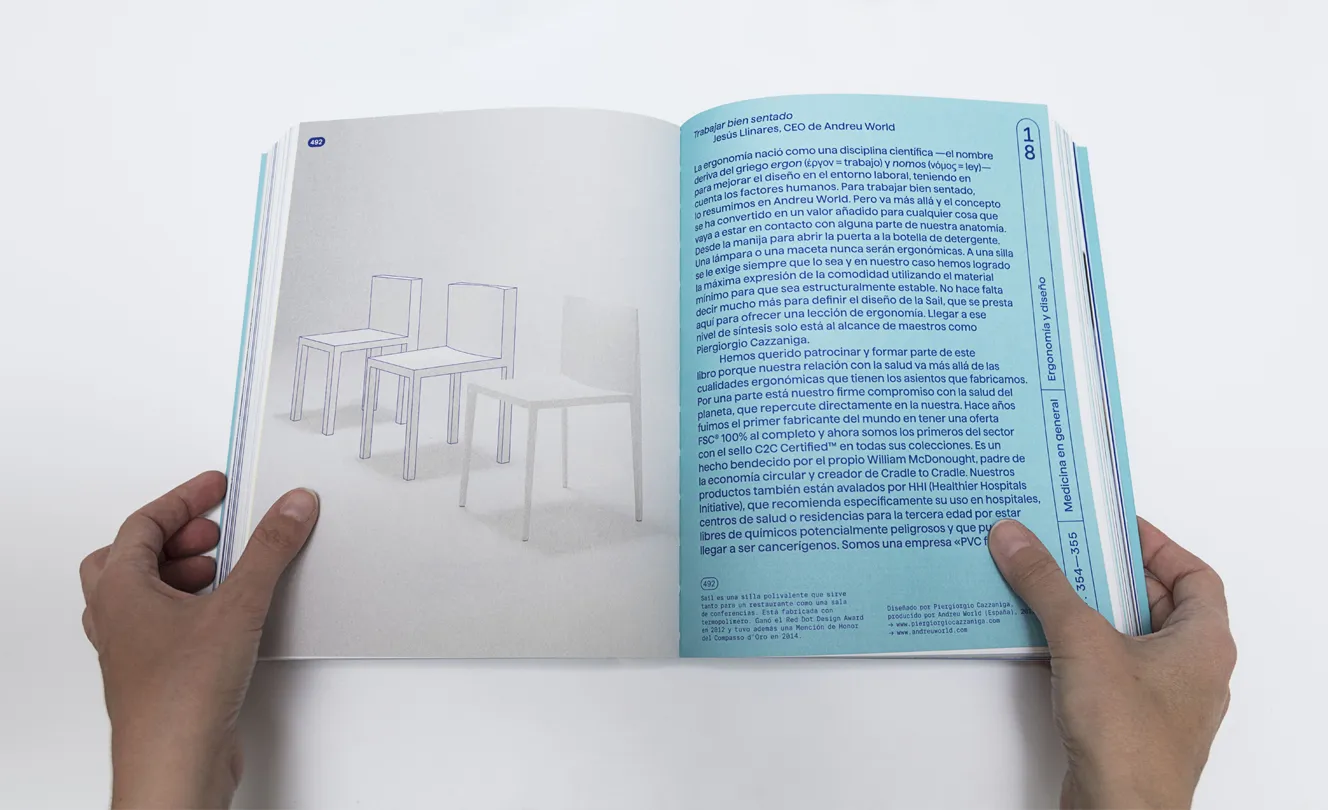 From industry to architecture, through graphic communication or fashion, there are many examples that serve to value this creative activity from the most important thing, our health, which is at the other end of the decorative and accessory. All of them are collected in the book Design is good for health.
Research work in all disciplines of design and creativity, without forget what the pandemic has generated or the social emergencies that exist in other parts of the world.
In the publication, a special chapter is devoted to ergonomics where Andreu World has been present, with examples in some of the designs, such as the Sail chair, created by Piergiorgio Cazzaniga or the Calma armchair, designed by Benjamin Hubert.
A transversal look that reviews the past, dissects the present and projects into the future to illustrate, with more than 500 examples, that science and medicine evolve and will continue to evolve with the help of technology and design.
With writings by Juli Capella, Patricio Sáiz, Pepa Reverter, Quim Larrea, Lluís Morillas, Luis Bassat, Víctor Palau, Álvaro Sobrino, Oscar Guayabero, Valentín Río, Artur Galocha, Xavi Calvo, Quico Vidal, Coke Ferreiro, Oriol Ventura, Toni Clariana, Tachy Mora, Jesus Llinares, Salvi Plaja, Carlos Atienza, Soledad Lorenzo, Marcus Hurst, Koke Fernández, Ana Domínguez Siemens, and Carmelo Zappulla.